Analysis of the Evolving Cloud Marketplace
IDC Report: Nine Start-Ups and Innovators Extend the Cloud Systems Management Software Marketplace
What's the State of Cloud Adoption in Enterprises Today?
IDC's winter 2012 CloudTrack Survey indicated that participants expected almost half of their organization's IT service delivery budget to be allocated to some type of cloud by early 2015, with 65% of that expected to be used on private cloud investments. As enterprise cloud adoption matures and grows, enterprises will require more sophisticated cloud systems management tools that reach beyond provisioning to cover the life cycle of a cloud application or workload and actually improve the performance, cost, and efficiency of ongoing operations and applications.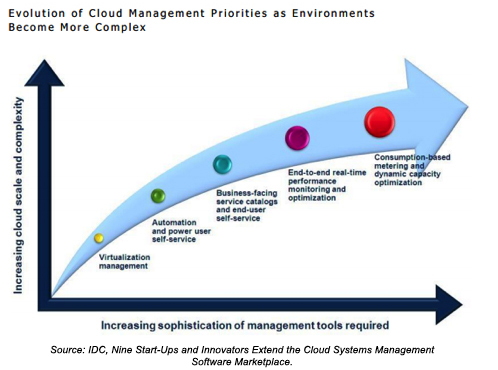 Read the IDC report for more information on how the cloud market is evolving and essential guidance on what you should be looking for when it comes to cloud systems management tools that will help take your IT to the next level.
Excerpt from Report
"As public, private, and hybrid cloud environments mature and increase in scale and complexity, more and more IT management teams will discover that effective cloud management and efficient day-to-day operations require a highly integrated approach to monitoring, scaling, and optimizing resource consumption and workload performance across the application life cycle."

Get the Report